When I began my blog, Color Your Life Happy, several years ago, I wanted to share ideas on creating success, abundance and inner joy. I had just retired and had loads of ideas and energy. While I had a plan in the back of my head to one day write a book, I did not know at first that this blog would become my book.
Writing a blog first and turning it into a book is not that unusual. Many authors report having taken that path. After all, as you share your ideas and build your followers in your blog, you are gathering material, a platform and confidence in your writing.
You may be thinking this is a good idea and yet not know how to get started. How about joining others who are blogging at the same time and get the encouragement and support at the same time?  " There is strength in numbers"  may be a cliche, but it's true all the same.
That's exactly why Michelle Shaeffer and Michele Scism are hosting the Ultimate Blog Challenge that starts today.
You can participate in this 30 day challenge even if you don't have a blog yet, but are eager to start one. The rules are at http://ultimateblogchallenge.com/faq/
Why is now the perfect time to start or revive your blog?
I'm glad you asked.
By participating in the Ultimate Blog Challenge, you are going to get benefits you can't get from working on your blog alone.
accountability and motivation (you know you need both of these to succeed)
visibility (your business can only grow when you come out of hiding)
connections with other bloggers and attract potential clients
a showcase for your expertise
Even if you are unsure about what to write, you'll get loads of help with that too. As a matter of fact, Michelle and Michele have already prepared video tutorials to walk you through the essentials.
In addition, they are going to give you idea starters every day of the 30 day challenge.
At the end of 30 days do you know what you'll have?
With 30 blog posts you will the makings of a book, ebook, a special report, an audio and many other possible products.
Who are these extraordinary hosts?
About Michele Scism
Michele is a business strategist and is best known as "The Results Lady" from DecisiveMinds.com, because she uses her signature "RESULTS" system to help business owners get the results they want out of their businesses and their lives. The key to any successful business is client attraction and retention and Michele's systems, strategies and business tips are focused on just that.
About Michelle Shaeffer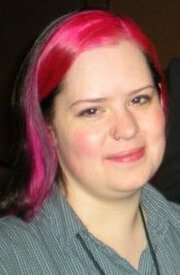 Michelle Shaeffer has been a work at home mom for more than 10 years and loves to share the tips and strategies she's learned to help other home based business owners balance, manage, and market their businesses. Depending on the time of day you might find her designing logos and websites, homeschooling her three children, chatting on Twitter, managing her website hosting company, or playing with her kids in the beautiful Alaskan sunshine. Connect with her at MichelleShaeffer.com